Dialectics, Vectors & Vector Leaders
Quote :

"People that can't think dialectically aren't really human beings at all, they just look like human beings"

~ Aristotle
Overview
In classical philosophy, dialectic (Greek: διαλεκτική) is a form of reasoning based on the exchange of arguments and counter-arguments, advocating propositions (theses) and counter-propositions (antitheses). The outcome of such an exchange might be the refutation of one of the relevant points of view, or a synthesis or combination of the opposing assertions, or at least a qualitative transformation in the direction of the dialogue.
http://en.wikipedia.org/wiki/Dialectic
Interpretations
(Plato, Hegel & Marx)
The word "
dialectics
" originally meant the art or science of debate.
For
Plato
, dialectics is:


the art of extracting all the positive and negative consequences contained in an idea or principle

the rational movement of the mind which ascends by successive stages, from perceptible data to ideas, the eternal and immutable principles of things

the idea of the Good, which is the primary idea.

Since for Plato ideas are the only reality worthy of the name,
dialectics or the science of ideas comprises science itself
.
For
Hegel
, dialectics is the movement of ideas through the successive stages of thesis, antithesis and synthesis until the absolute idea is attained.
For
Marx
, dialectics is
no longer the movement of ideas, but rather the movement of things themselves
through contradictions, of which
the movement of the mind is but the conscious reflection
.
Quote :

"To speak Greek, we have the thesis, the antithesis, and the synthesis. As to those who are not acquainted with Hegelian language, we would say to them in the sacramental formula, affirmation, negation and negation of the negation."





~ Marx, Poverty of Philosophy
Marx's significant change in the understanding of dialectics maybe one of the most significant changes society has undergone, and understanding this explains much of what we are experiencing in society today and much of what I have posted in these forums to date.
Historical Examples of High Level Dialectics in Society
Humanity is being challenged by a number of "manufactured" choices (
One World dialectics
) that have been psychically driven into the public's consciousness:


One World or Terror[ism]

One World or Chaos

One World or War

One World or Famine

One World or Nature Dies

One World or Humanity Ends

One World or None (Einstein et. al. actually published this after Hiroshima)

But all the options are a trap, because we know that One World means total servitude to a gang of psychopaths (too horrific to even think about).
Recent Example of Dialectics in Society
Let's take one of the more current global dialectics being manufactured, what Samuel Huntington refers to in his book
Clash of Civilizations
, which first appeared as an article in Foreign Affairs, Summer 1993, included a question mark after the title, but that was removed on the book.
Original article can be found here
http://tinyurl.com/yaz3v5
The Clash of Civilizations dialectic (civilization versus civilization; culture versus culture) was supposedly manufactured in a speech at AEI in response to Francis Fukuyama's 1992 book, The End of History and the Last Man (meaning that man has been fully immersed in Marx's materialistic system and can no longer think for themselves). It is this Clash of Civilizations dialectic that the public see as the Global War on Terror, and it is totally contrived.
http://en.wikipedia.org/wiki/The_Clash_of_Civilizations
Map illustrating cultures that are to be pitted against each other
The synthesis that is being offered to the public for this dialectic is an integrated interdependent networked monolithic One World, where no individual will be able to attack another individual without damaging their own self-interest. All cultures melded into one, in order to protect us from ourselves, that's the logic behind the Clash of Civilizations dialectical synthesis.
Are Dialectics Really Hegelian?
Unfortunately, most dialects in today's world are inaccurately attributed to Hegel, when in fact the dialectics in use are an abomination of Hegel's work.
For example, the Marx version of the dialectic is one where the forces that are represented are ones that ACT upon the individual. This is where the "problem" - "reaction" - "solution" interpretation of the dialectic comes from. It represents external problems impacting on the individual, their reaction and the EXTERNAL solution. It's a method of control, and it is quite the opposite of Hegel's interpretation of the dialectic.
Hegel's dialectic was designed to be used by the INDIVIDUAL as a framework to answer questions about the universe. It was a way to gain wisdom and knowledge, by structuring the way one asks question. It's a tool for individual growth. Hence, Hegel's framework was typically referred to as "thesis" - "anti-thesis" - "synthesis". It was not forces acting upon the individual, but forces that were employed BY the individual.
Marx/Engels co-opted the technique, and added it to the tool chest of societal forces. The entire system of ordering society is based upon the dialectic of "Haves" versus "Have-Nots", with only a small segment of society necessary to populate the "Haves" side of the dialectic. Hence, Production, Consumption and Exchange arel designed to the benefit of the "Haves" and to the disadvantage of the "Have-Nots". Marx's dialectical manifestation creates these polar opposites within our system, ensures that all participants are shaped by this world view, and further ensures that the system continues to be exclusively designed for the "Have-Nots" by the "Haves".
Therefore, it is this system that is our problem, our perception of how the world must operate, not any particular group of people nor some specific set of occult techniques.
Marx's Dialectical Materialism
Dialectical materialism:


provides the sole framework for our world view.

provides a specific method for the investigation of scientific problems.

stipulates that everything is material.

requires that change takes place through "the struggle of opposites".

specifies that since everything contains different elements that are in constant opposition,
"self-movement" (ie. change) automatically and continuously occurs.

lays-down that this constant conflict of opposing forces leads to growth, change, and development

states that everything is fluid and subject to change (No Universal Truth)

Marx replaced Hegels view of the entire universe with a focus just on production, consumption and exchange. This was the creation of the limited reality, a reality that could be controlled and ever changing to best suit the needs of the "Haves"..... a controllable hyperreality, which can be summarized as follows.
Quote :

"The doctrine or theory of history espoused by Marxism. The dialectical aspect derives from Hegel, who thought that history proceeds in something like the stages of a conversation, in which each stage overcomes the previous stages and therefore comes closer to finally attained unity or truth (see Hegelianism).

The materialist aspect replaced Hegel's emphasis on spiritual improvement and the collective unconscious with a focus on economic classes and the economic-technological basis for social relations

Thus dialectical materialism posits that history progresses in stages that are based solely on ownership of the means of production: i.e., feudalism replaced aristocracy, capitalism replaced feudalism, and true socialism or communism will replace capitalism -- all according to inexorable, immutable laws (see historical determinism)."

Source: http://www.ismbook.com/dialecticalmaterialism.html
Dialectical materialism official philosophy of Communism, based on the writings of Karl Marx and Friedrich Engels , as elaborated by G. V. Plekhanov , V. I. Lenin , and Joseph Stalin . In theory
dialectical materialism is meant to provide both a general world view
and a specific method for the investigation of scientific problems.
The basic tenets are that everything is material and that change takes place through "the struggle of opposites"
.
Because everything contains different elements that are in opposition, "self-movement" automatically occurs; the conflict of opposing forces leads to growth, change, and development, according to definite laws
.
Quote :

"Under these doctrines the social, political, and intellectual life of society reflect only the economic structure, since human beings create the forms of social life solely in response to economic needs."
Communist scientists were expected to fit their investigations into this pattern, and official approval of scientific theories in the USSR was determined to some extent by their conformity to dialectical materialism (see Lysenko, Trofim Denisovich ).
Use of these principles in history and sociology is sometimes called historical materialism
. Under these doctrines the social, political, and intellectual life of society reflect only the economic structure, since human beings create the forms of social life solely in response to economic needs. Men are divided into classes by their relations to the means of production—land and capital. The class that controls the means of production inevitably exploits the other classes in society; it is this class struggle that produces the dynamic of history and is the source of progress toward a final uniformity. Historical materialism is deterministic; that is, it prescribes that history inevitably follows certain laws and that individuals have little or no influence on its development. Central to historical materialism is the belief that change takes place through the meeting of two opposing forces (thesis and antithesis); their opposition is resolved by combination produced by a higher force (synthesis). Historical materialism has had many advocates outside the Communist world.
The Columbia Encyclopedia, Sixth Edition
http://www.encyclopedia.com/topic/dialectical_materialism.aspx
Control by Manufacturing Reality & Truth
Do not think of information in terms of "truth" versus "lie". Information is centrally created and used to manufacture reality amongst groups of people for specific ends. Given this view of an infinitely flexible truth, and given that Marx created a world view that focused solely on production, consumption and exchange, we find ourselves, as stated previously, in a controllable hyperreality where control of production, consumption and exchange resulted in control of the public's world view.
This controllable hyperreality, manifested through Marx's Dialectic of Materialism, can best be illustrated as a circular boundary where all the contents (production, consumption and exchange) of our world view lie. Within this boundary we find an infinite number of manufactured opposites, negating each other in order to manufacture struggle that will lead to predesigned solutions.
In it's most simplest form, with only one pair of opposites, this system can be represented by the common symbol for Peace (with the forks representing the dialectical paths, or vectors).
Marxist Materialism Boundary, constraining public
within economic-technological hyperreality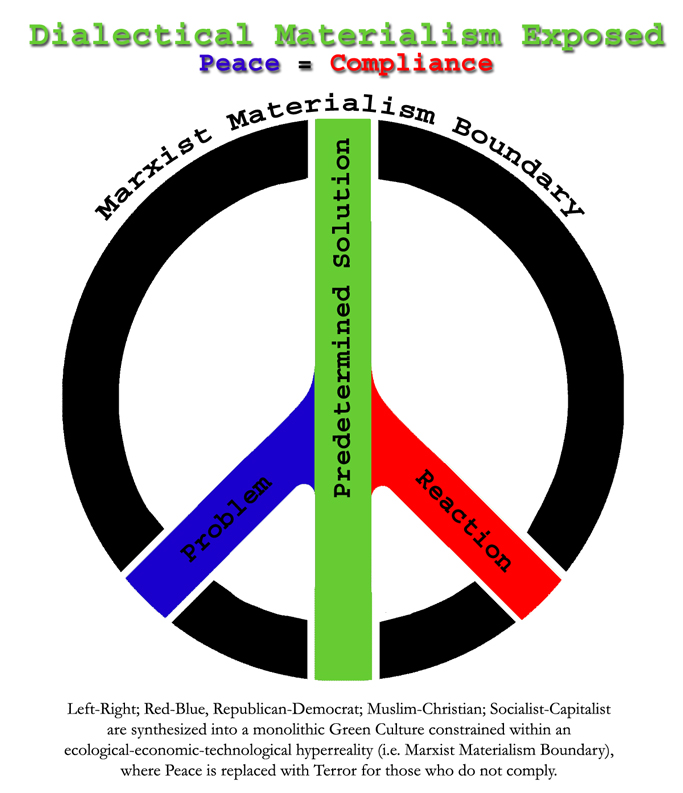 What we find when we view this system in terms of a Peace symbol is that peace is not freedom or liberty, but peace is achieved when total control is achieved. Hence, Peace can be interpreted as a goal where the entire system is operating within prescribed world views, reacting to the forces of dialectics that are imposed upon them, where the dialectics themselves remain within the constraints of prescribed world views.
Quote :

Awakenings are allowed, so long as they're
inside the framework of the Dialectic
I believe that this is why JFK made a point of stipulating both "
peace and freedom
" in his 1962 speech, specifically excluding "
peace at the expense of freedom
" as an option. JFK understood Dialectical Materialism and was referring to his opposition of this world view.
Quote :

"Our goal is not victory of might but the vindication of right — not peace at the expense of freedom, but both peace and freedom, here in this hemisphere and, we hope, around the world. God willing, that goal will be achieved."



~ JFK, July 4, 1962


http://www.entertonement.com/clips/lnbxvflmyh--Our-goal-will-be-achievedJohn-F-Kennedy-JFK-Politics-News-Cuban-Missile-Crisis-
Vectors - One Technique of Manipulation
A Vector is a "false construct" created by Information Operations (IO) actors in order to (mis)lead the public down a path that will not allow the public to obstruct the goals of the social planners.
For those interested in vectoring (or, sometimes referred to as framing) please watch the video,
Science of Manipulation
, where pollsters (including Frank Luntz) discuss how they manipulate using "frames".
Use of vectors gives one group the ability to frame issues differently than another group. Social manipulators sell what they want to one side of a dialectic by employing a given frame, then sell different information to the other side of the dialectic using a conflicting frame. Use of these techniques segments the audience and keeps segmented these participants voluntarily separated so they don't talk with each other unsupervised. It can visualized via a simple color wheel, which can be thought of as the Peace symbol simply with additional vectors (ie spokes) added, with each vector representing a different frame of reference, or a different perception of reality, for each specific audience.
Color Wheel representing framework of Vectors,
Constrained by a circular boundary
Social manipulators and vector leaders then program and charge-up trigger words for each segment of the public....teaching each segment to speak their own language....which happens to be full of trigger words that trigger a negative reaction to those on the other side of the dialectic or in another vector.
The actual message of a Vector may not necessarily be false, but it deliberately creates a false understanding or view. It's design is to manipulate its intended (and usually, very specific) audience, that's the primary goal.
In many cases, the manipulation is designed so that various audiences, who are all uniquely manipulated, will oppose each other - form a dialectical opposition
. The net result is that each audience is mislead and fighting with other audiences who have also been mislead.
We can see similar patterns by examining the relationship between an abusive spouse and their partner, where we witness a myriad of manipulative techniques to maintain control, with a boundary of ultimate control being physical violence.
We can extrapolate this paradigm to across society, where the public plays the roles of the abused and the social planners and facilitators play the role of the abusers.
However, in the paradigm of this discussion around Vectors and Dialectics, the public is exposed to highly sophisticated techniques of image and language manipulation in order to segment the public into numerous subgroups, with each of these groups opposed to others who are equally manipulated by their own custom set of vectors.
Vector Examples
For a detailed discussion of Vectors and how they are used in the real world, please see thread on Vectors within the Definitions, Key Terms & Semantic Manipulation forum.
https://wwws.forummotion.com/definitions-key-terms-semantic-manipulation-f22/what-is-vector-t282.htm
Vector Leaders & Actors
Vector-leaders are media actors tasked to appeal to a particular segment of the public (vector-followers), keeping their view of the world within a particularly defined frame, or set of vectors. Vector-leaders capture vector-followers and develop trust relationships that stifle the follower's critical thinking and maintain a narrow perceptions that are dialectically opposed to other vectored groups.
The Future of the Marxist Dialectic
You see, now they're adapting Marx to Computer Networks, and mutating from the production of material goods and services to virtual goods and services. And in this paradigm, consumption AND production become unlimited and all pervasive. For example, with the advent of computers, every action that humanity takes can be monitored, measured, accounted, and exchanged for in some way. Flush the toilet, that'll be 5-cents please. Drive past a road marker, we'll take another dime from you, thank you very much. Oh, don't say hello to the next passer-by on the side walk, that will cost you a quarter. Every social action that we take for granted will be able to be sensed, and will have an associated cost. Welcome to Social Networking meets Brave New World, and it's coming to you faster than you know. That's the economy of the future, and it will embed itself into everything you do.
Now, why is no one in the "alternative" media putting this simple set of dots together for you like this? Why is tech being pushed as a savior? And why are you focused on brainchips when cities have already contracted to place sensors everywhere, and your cute little iphone can be used to monitor your health surreptitiously? The good stuff is not being discussed. Only the junk-information is being given to you.
Dialectical Materialism's Ultimate Intended Impact
Marx said to Darwin, thank you, because you have validated the whole theory behind Marxism and Communism and the whole idea of the Dialectic of Materialism...
In other words, as Niché said, he had managed to destroy God .......to dehumanize the public through science
.
Secular Humanism to debase/dehumanize the public ....convince us that we are just protoplasm freaks of nature, accidents. Once we believe this, then anything that can be done to us is justifiable.
Appropriate Response
The ONLY answer to this centrally planning and delivered reality creation is to stop letting others create your reality for you, even those who appear to be delivering you knowledge that is to your own benefit.
More Discussion